General Aviation Improvement Program
General Aviation Improvement Project Timeline
On September 10, 2019, the Board of Supervisors approved the Request for Proposals (RFP) for two (2) Full Service Fixed Base Operators (FBOs) as well as one Limited Service Fixed Operator (FBO). Each of the potential proposers will now prepare applications to be considered for one of the Full Service FBOs or the Limited Service FBO. The timeline for the selection process is as follows:
Proposal Due Date and Time


December 19, 2019

2:00 PM PDT

Panel Review & Interviews

December - February 2020

Airport Commission

March 2020

Board Selection of Preferred FBO Operators to Negotiate Terms for Potential Award

April 2020

Negotiation of Terms with Selected FBO Operators

May 2020

Board Award of Leases to FBO Operators

June 2020

The Orange County Board of Supervisors is scheduled to again consider the John Wayne Airport General Aviation Improvement Program (GAIP) on Tuesday, June 25. This item was continued from the Board's May 7 meeting to allow time for a compromise solution proposed by Supervisor Andrew Do to be evaluated by County staff.

On June 19, County staff moved forward with the same recommendation that was presented at the May 7 Board meeting, which asks the Board to approve Alternative 1. The cities of Costa Mesa and Newport Beach opposes Alternative 1 in its original form because it will result in more jets flying over our community.
Click here for the staff report and public comments.

Both cities remain willing to consider the "modified Alternative 1" as proposed by Supervisor Do, or another reasonable plan that contains the project elements that protect the communities under the airport's arrival and departure corridors from additional noise and pollution impacts. Specifically, Costa Mesa and Newport Beach leaders are looking for the Board to adopt a plan based on, or that contains element similar to, the principles of Alternative 3 (the preferred alternative):
At the initial May 7 meeting when the board took up this debate, the cities of Costa Mesa and Newport Beach had City Council representatives present who spoke in favor of Alternative 3. The City of Newport Beach also had its outside counsel speak about some of the issues raised in the letter the City sent to the Board on May 3. (Laguna Beach and Tustin sent letters in support of Alt. 3 and the Huntington Beach City Council voted to support Alt. 3 on May 6.) There was a strong showing of community members, but there wasn't a clear consensus behind one alternative or concept. Some supported the So Cal Pilot's proposal (calls for 3 FBOs and more space for light GA), others sought to delay the Board's vote, and some supported Alternative 3. No one spoke in favor of Alternative 1.

The table below (using the EIR's 2026 forecasts for the alternatives) compares Alternative 1, Alternative 3 and the Proposal presented at the May 7 Board meeting.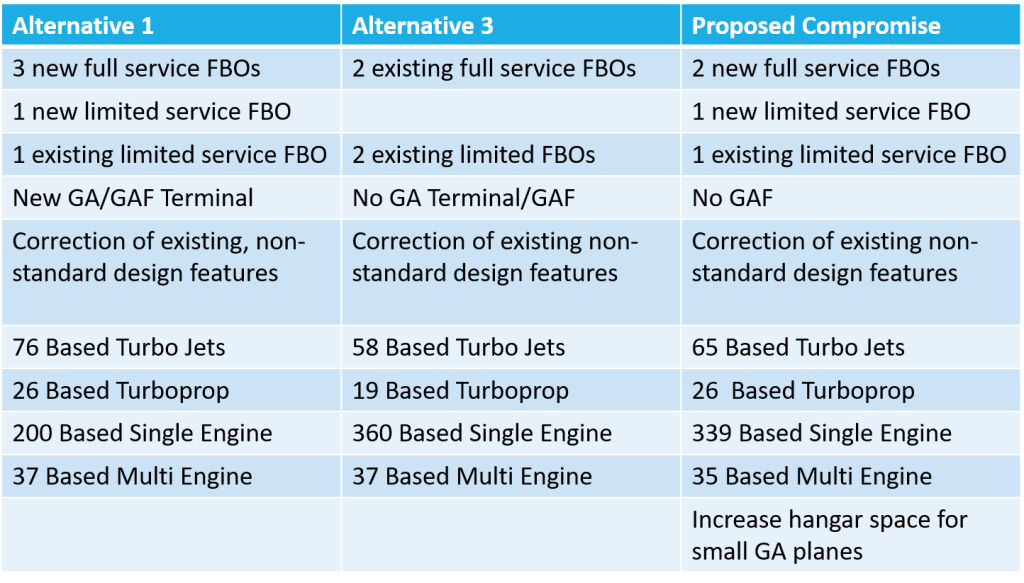 Overview
John Wayne Airport is considering modernizing its general aviation facilities.
The proposed improvements include:
Modifications to buildings and an airfield roadway to comply with current Federal Aviation Administration (FAA) standards for airport design
Provisions for a General Aviation facility which is a screening facility for Customs and Border Protection, Department of Homeland Security, for international travel, in addition to provisions for a general aviation terminal
Provisions for up to three full-service, Fixed Base Operators
Provisions for a flight school with tie-down areas
Provisions for the Orange County Sheriff's Department air support facility
Provisions for a self-service fuel facility for general aviation aircraft
Retention of the existing general aviation fuel farm, which is located on the southeast side of the airport.
All improvements are proposed to be confined to the existing airport footprint. You can learn more about the program at ocair.com/generalaviation/gaimprovement.
Draft Environmental Impact Report
The County of Orange prepared a Draft Program Environmental Impact Report (EIR) for the proposed General Aviation Improvement Program (GAIP) in the fall of 2018. The draft EIR public review and comment period began on September 20, 2018 and closed on November 21, 2018. The Draft EIR is available for public review at ocair.com/deir627.
The County issued its responses to comments on April 9, 2019. You can access the information at ocair.com/generalaviation/gaimprovement.